Here are some key things that are worth to know on holiday in the south Turkey:
Before sunbathing you should to go to HAMAM – Turkish bath. This is centuries-old tradition of cleansing the skin and a fantastic relax, for you the official start of holiday.
After the treatments in the bath tan will last longer and will have nicer color, and we ourselves will feel younger, and … reborn!

Go to the bazaar. Bazaars (markets) are Turkish tradition. In every city and almost every village bazaars take place at least once a week. In center of Alanya the most famous bazaar takes place on Fridays. The bazaar is perfect place to buy spices, souvenirs, peanuts and raisins, as well as delicious fresh fruits and vegetables. Although we do not advice to purchase of fake branded clothes, but if you want we guarantee that it will be plenty to choose from

Make a trip to the Castle Hill – 'Kale'. You can enter the museum of fortress ruins (entrance fee 10 €). You can also sit in one of cosy cafes for a turkish tea and eat shepherd's pancake called gözleme, buy beautiful scarves and tablecloths which are selled by Turkish villagers.
The castle offers a beautiful view of Alanya and the sea. You should also go down on the main road to visit the old mosque, a cistern or an old Muslim cemetery and even … get out of the fortress walk all the way down to the historic port of Alanya. Panoramic views and quiet ruling there, certainly more than a pain in the legs will stay in your memory
Mosques. It is worth to visit any mosque in Alanya, such as the old one on the Hill or big one in the center of the harbour. Most of Turkish mosques are open to the public of a different religions. Remember about respect for other believes: entering to the mosque you need to cover the head by scarf (women).

NIGHTLIFE. It is concentrated in the center of Alanya in the harbor. There is plenty of nightclubs, bars and discos. All play similar music and popular disco. For fans of rock music there is a special bar, The Doors!!! [click here] . Entrance to the discos are free, but of course you need to order something to drink. In most bars, the "real party" begins just after midnight, and ends about 3-4 o'clock in the morning.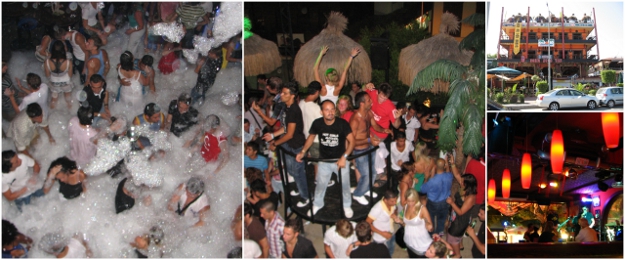 KITCHEN and FLAVOURS. If you want to try special kebab you should eat KEBAB ADANA with sheep or lamb flavored minced meat, served in the company of appetizers – the Turkish meze – and salads.  If you love fish and seafood we recommend restaurants in the harbor overlooking the sea or river DIMCAY picnic area, where restaurants are located on platforms on the water …
MONEY – in Turkey is valid Turkish Lira – TRY.  Everywhere you can also use debit and credit cards and withdraw money from ATMs (some also have the possibility to withdraw euros, dollars and pounds).
If you do not want much to buy, or are planning the big expensive purchases, you can safely use directly the euro and dollars.
PHARMACIES – are marked with red cross on a white background and the inscription 'ECZANE'. Opened everyday except Sundays, from morning to late evening. Many of these medicines can be purchased without a prescription.